10 Rustic Decor Ideas to Transform Your Home
•
Posted on April 24 2023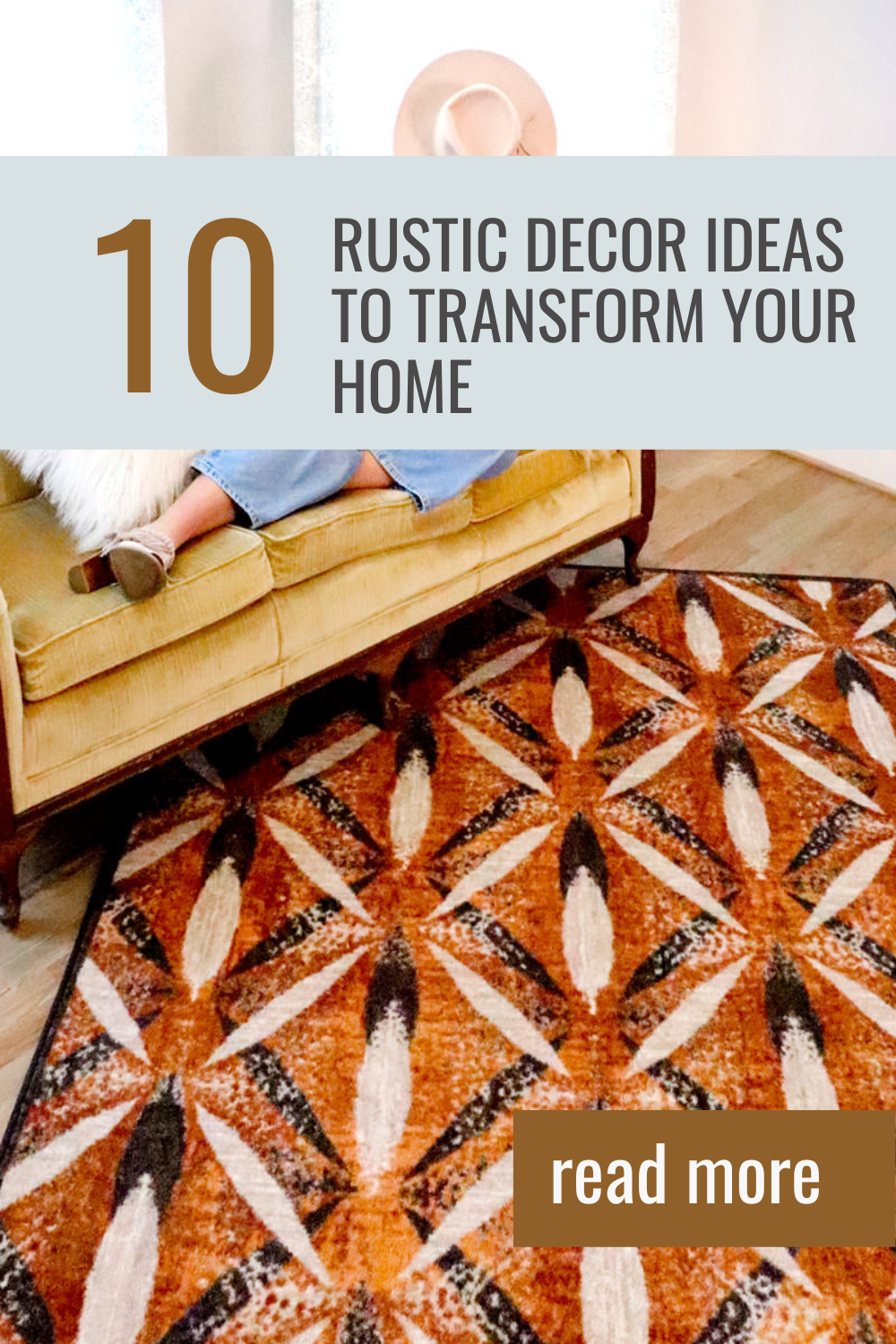 Are you looking to transform your home with a touch of rustic charm? Whether you're living in the city or in the countryside, rustic decor can give your home a warm and inviting feel. At Timber Creek Mercantile, we specialize in unique and  rustic decor pieces that will add character and style to your home. Our made in the USA rug collection adds texture and design to any room. Mix and match with our vast collection of home decor and accessories for a final touch.
Here are ten rustic decor ideas that are sure to inspire you:
1. Reclaimed Wood Shelves - Add a rustic touch to your walls with these beautiful shelves made from reclaimed wood. Perfect for displaying your favorite books, plants, and other decorative items.
2. Vintage Signs - Whether you're looking for a statement piece for your living room or a playful addition to your kitchen, vintage signs are a great way to add some rustic charm to your home.
3. Farmhouse Lighting - From pendant lights to chandeliers, farmhouse-style lighting can give your home a warm and inviting feel. Look for fixtures made from wrought iron, brass, or other natural materials.
4. Rustic Mirrors - Mirrors can add light and depth to any room, and rustic mirrors can add a touch of charm and character. Look for mirrors with distressed or weathered frames for a true rustic look.
5. Natural Textures - Incorporate natural textures like burlap, jute, and linen into your home decor. These materials can add warmth and depth to your space and are perfect for creating a cozy and inviting atmosphere.
6. Vintage Knick-Knacks - Vintage items like old bottles, jars, and other knick-knacks can add character to any space. Display them on shelves or use them as centerpieces to add a touch of rustic charm to your home.
7. Rustic Wall Art - From vintage maps to nature-inspired prints, rustic wall art can add personality and charm to any room. Look for pieces made from natural materials like wood or canvas.
8. Rustic Furniture - Invest in rustic furniture pieces like a farmhouse table, wooden bench, or distressed dresser. These pieces can add character to your home and will last for years to come.
9. Woven Baskets - Woven baskets are not only functional, but they can also add texture and warmth to any space. Use them to store blankets, magazines, or other items.
10. Rustic Throw Pillows - Add a pop of color and texture to your space with rustic throw pillows. Look for pillows made from natural materials like linen or burlap, and choose colors that complement your existing decor.
At Timber Creek Mercantile, we have a wide selection of rustic decor pieces, a huge selection of Western rugs, and decor that will help you transform your home.
Shop our bestsellers here!