About Jacob Bromwell Model One Flasks
•
Posted on August 13 2021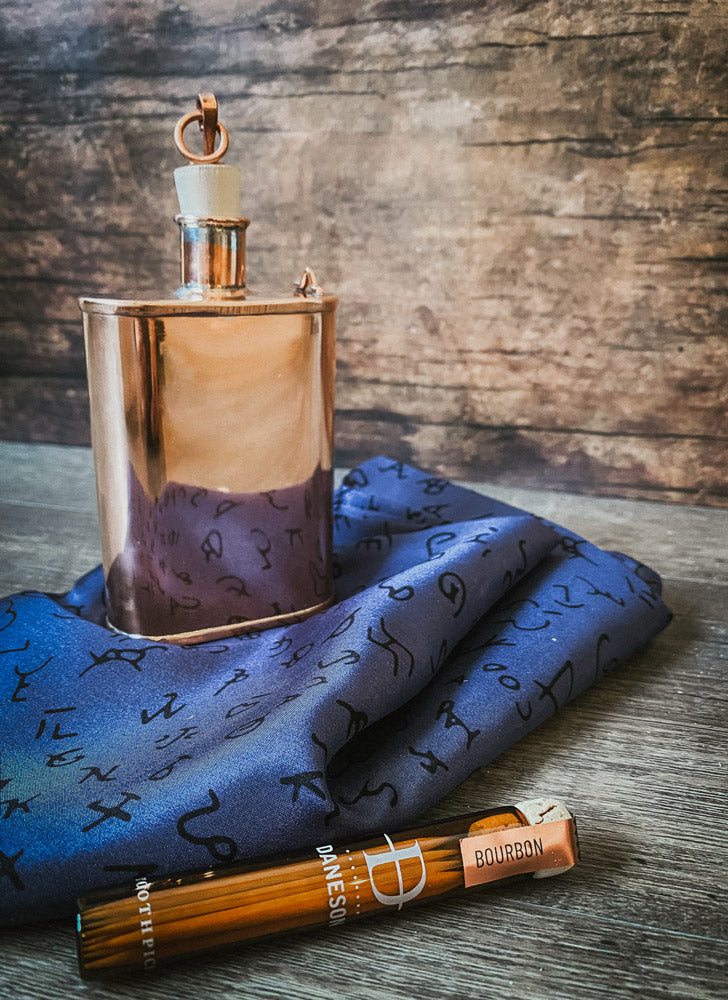 "The Flask That Needs No Introduction"
I have added the Jacob Bromwell 'Model One' flask to select gift boxes. This flask is the best of the best when it comes to copper flasks, and this 1819 design has stayed the same since the beginning.
Named "the best copper flask" by Business Insider, this Jacob Bromwell® flask remains true to our company's original 1819 design.  Featuring an historically-accurate American Birch stopper, Model One is 100% hand built by skilled Jacob Bromwell® artisans using solid, heavy copper.  Then you add in the provenance, and this flask is worth its weight in gold.  Each Model One undergoes a lead-free soldering process at our workshop, and is finished off with our proprietary SuperPolish™ finish.  Tuck it inside a blazer, jacket pocket, clutch, or in the top of a boot for ballgames, barbecues, and parties.
Interesting Facts about the Jacob Bromwell "Model One"
A Jacob Bromwell® product is an investment for life. Copper is sky-high on the commodities market today, and there are up to five red-blooded artisans involved in the creation of this copper masterpiece. Every step in our unique manufacturing process is still done by hand. It's a passion our company is unwilling to give up.
Designed, engineered, and manufactured by Jacob Bromwell®. Jacob Bromwell® is the original manufacturer of this luxury copper flask! Other companies may imitate the original design, but none are made as well and none have the history to back them up.
Holds 9 fluid ounces. Holds 9 ounces of liquid (that's 6 shots of bourbon, whiskey, tequila and other favorite liquors)!
Free cork stopper included. Each flask is historically-accurate right down to the authentic American birch wood stopper. We also include a 100% leak-free cork stopper for customers who prefer an air-tight seal.
Made of pure, solid copper and features our proprietary hot-tinned interior. Considered to be a long lost art, hot-tinning is a manufacturing process pioneered by Jacob Bromwell®nearly 200 years ago. As a highly-skilled, labor-intensive process, we take sheets of tin and apply it through a process of heating directly to the copper. Hot-tinning makes each piece unique and historically-correct to the original design, and ensures your product is food and beverage safe.
100% authentic and true to the original. Each piece is soldered with lead-free solder - not welded - for added authenticity.
This product is guaranteed for life. Your purchase is backed by our 100% Lifetime Guarantee, so you can buy with confidence.
Copper will never rust. Copper is resistant to corrosion and will never rust. If left untreated, the copper finish will naturally oxidize and age beautifully. You can polish it up to restore its shiny finish, or let it earn a beautiful patina.
This product is perfectly imperfect and made entirely by hand.  Small cosmetic imperfections may occur and lend authenticity, charm, and individuality to each piece.  This is a natural part of the handmade process.
(excerpt from: Jacob Bromwell website)
You know you are gifting the best to your loved ones when purchasing the gift boxes sold on Timber Creek Mercantile. Every box is curated and packaged with every detail in mind. 
Questions? Feel free to contact me hello@timbercreekmercantile.com
All the best and cheers!
-Tammy Payne